Dear Valued Customer:
Manufacturer Candy Dynamics has voluntarily initiated a recall of its Slime Licker® Sour Rolling Liquid Candy. This product recall is being conducted in cooperation with the U.S. Consumer Product Safety Commission. Candy Dynamics has received two reports of the rolling ball detaching which could result in a choking hazard. This recall is about the rolling mechanism and not the candy itself. No injuries have been reported. This recall does not impact any other Candy Dynamic products.
The Stuff Shop will refund you any non-empty returned product. Please fill in the product details below and reply to this email or contact your individual representative for return shipping instructions.
The Stuff Shop RETURN FORM
Individual consumers (your customers) with non-empty product should contact Candy Dynamics directly for a full refund. They can be reached at 1-877-546-0483 from 8a.m to 5p.m EST Monday through Friday or anytime via www.CandyDynamicsRecall.expertinquiry.com or www.CandyDynamics.com. Consumers should dispose of any empty items. 
Also, here is a recall-poster Please display this poster in a highly visible location within your location for a period of no less than 120 days.
We understand any frustrations and are sorry for any inconvenience. 
Exact details on the recalled product follow below.

Photographs of the product follow below.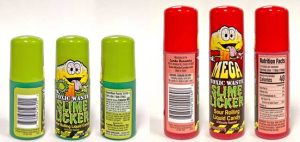 PRINT RECALL POSTER
Best,
The Stuff Shop